JASCHA GOPINKO (1891-1980)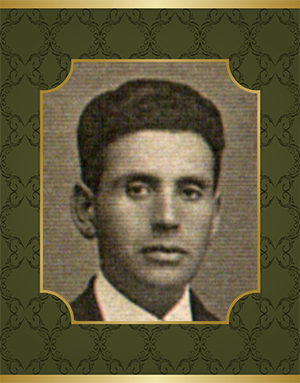 Jascha Gopinko was a violinist, violin teacher and orchestra conductor who founded several musical groups on the coalfields, including the Kurri Kurri Mandolin Orchestra, the Kurri Kurri Symphony Orchestra and the Cessnock Symphony Orchestra.
Gopinko was born on 15 December 1891 near Mogilev, Ukraine, Russia and emigrated on the Orvieto to Australia in 1914. He was an accomplished violinist, but a "terrible miner". However, miners asked him to teach their children to play. He then set up the Kurri Kurri Mandolin Orchestra, composed of mine workers, and instructed in several instruments. He taught his wife, Rebecca, nee Snidermann, whom he married in 1929, to play the cello.
Some of his students went on to win prizes at the local and national levels, including the great City of Sydney Eisteddfod. Ernest Llewellyn from Kurri Kurri, son of a Welsh-born miner, went on to become the concert master of the Sydney Symphony Orchestra and conductor of the Canberra Symphony Orchestra and held many other important positions. Llewellyn toured with the pianist, Hephzibah Menuhin, amongst other important artists. Other students who achieved some fame included Leslie Chester, Ronald Ryder, Donald Blair and Nelson Cooke.
Gopinko moved to Sydney in 1936 where he rented a studio at W.H. Paling & Co's building. He taught there for many years, as well as at Maitland twice a week. He died in Rose Bay on 4 July 1980.
Source
Helga M. Griffin, 'Gopinko, Jascha (1891–1980)', Australian Dictionary of Biography , National Centre of Biography, Australian National University, http://adb.anu.edu.au/biography/gopinko-jascha-10330/text18285 , accessed 27 February 2013.
---
Extract from The Cessnock Eagle and South Maitland Recorder
Jascha Gopinko
Many harsh comments are frequently heard about the appalling lack of that which is best in music on the coalfields. Many men, by assiduous attention to practice, achieve success which is, of course, only given to those who realise that, after all, jazz is merely arbitrary, and, finally, the best of music will captivate the people. These men refuse to be dominated by the mode, and night after night concentrate on the production of music for which they believe an appreciative audience to be waiting.
Jascha Gopinko is just such a man! Here in Cessnock and in Kurri he has earned, and justly so, the reputation of being a musician of no mean order. Jascha Gopinko is master of all string instruments, and as teacher and conductor he is unequalled on the South Maitland Coalfields. Musicians and lovers of high-class productions will remember with pleasure the fine performance of Handel's "The Messiah" recently. This was only made possible by the splendid services of Mr. Gopinko. He was never absent from his post, and his determined efforts were untiring.
The handicap under which Mr. Gopinko has labored will, easily be imagined. Coming to Australia from Warsaw, Poland, his first difficulty was our language; but in spite of such difficulty — and the uncongenial occupation of colliery worker — he managed to save sufficient to further his study of the violin. Having studied for years at the Warsaw Conservatorium under Professor Buchner prior to coming to Australia, he sought out the best of teachers here, and became a pupil of Professor Coad at the Sydney Conservatorium of music. When Professor Coad left for America, he became a pupil of Professor Hoogstool. By many sacrifices and nights of laborious practice he felt qualified to take up the profession of teacher on the coalfields, and to-day he is one of the best known of his profession.
At the present moment Jascha Gopinko is working day and night for the success of the Cessnock District Symphony Orchestra's concert on the 13th June next. The same determined attitude to his work is in evidence, and it will not be lack of attention if the concert is not a success. He has the wholehearted support of his orchestra, which comprises prominent Cessnock musicians. Here in our midst we have a musician! A man who is worthy of appreciation by virtue of the fact that he gives his time to music — not the flippant jazz; but the inspiring melodies of Rachmaninoff, Luigini, Bizet, Halyn and others too numerous to mention. May we, the people of Cessnock feel that here, we have a man who is doing his utmost to stimulate a love of the "best" of music, for it is only with our support that those ventures can be successful. Jascha Gopinko is our man. Let us support him; let us recognise him; let us not deter effort, for under the stimulus of genuine appreciation men have been spurred to greater efforts. The coalfields need music. It is here. Our sons and daughters comprise the orchestra; so let us never send out the melancholy wail— the wail that is so prevalent, but which is really born of apathy. Jascha Gopinko is the man who knows what the hearts of the people want. Let us support him; give him our sympathy, help, and appreciation. Alfred O'Shea and Mischa Dobinski will be the star artists at the concert in the Strand Theatre on Monday, June 13th.
Source
The Cessnock Eagle and South Maitland Recorder (NSW : 1913 - 1961) 3 Jun 1927: 9. Web. 25 Feb 2013 < http://nla.gov.au/nla.news-article99385980 >.