Destinations - Where does the coal go?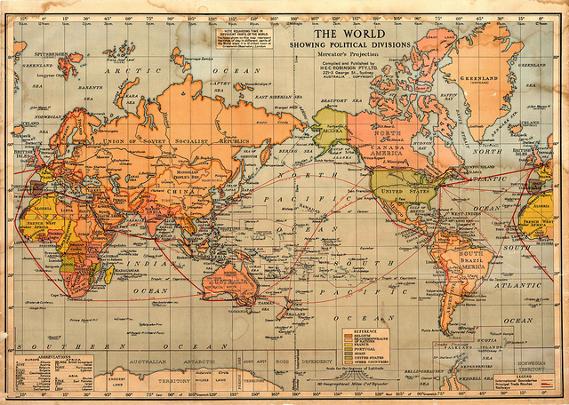 The World showing political divisions, Mercator's Projection [c.1940's]. Red lines illustrate trade routes.
In 1886, during the earlier days of coal export, ships left Newcastle and Sydney ports with loads of coal bound for many different countries including:

United States - 19%
New Zealand - 9%
China - 7%
India - 3%
Java
Philippines
Singapore
Fiji
New Caledonia
Hawaii
Peru
Mexico
Papua New Guinea
Panama

In modern times, the export market is very different. In 2011, New South Wales exported coal to:

Japan 50%
Korea 17%
Taiwan 14%
China 9%
India 4%
Mexico 1%

Why the difference? Consumption of and production of coal had changed worldwide. Australia only produces 6% of the world's coal, China produces 54% but is also the largest consumer of coal worldwide. The USA is the second largest producer and consumer of coal. Download the Powerpoint presentation below for more information.