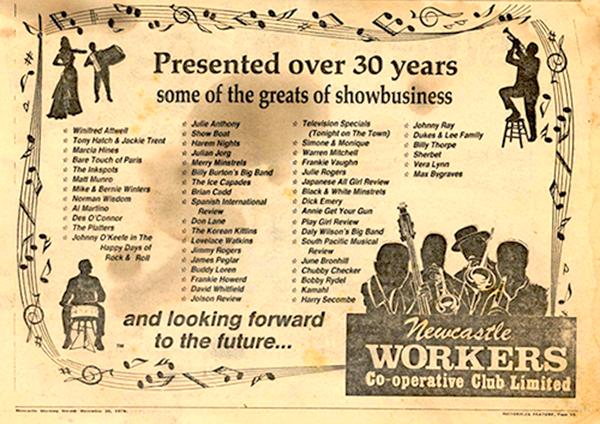 Workers Clubs
Workers' clubs were established after World War II, replacing the miners' lodges and co-operative societies as the centre of public life in the district. Metcalf, pp. 103-104
Reasons given for the establishment of the clubs included -
promotion of ideals
moral and cultural stimulation of members
venue for debates and discussions.
a place where the family could participate in education as well as social [activities]. (JIm Comerford & Grace Scanlon, quoted in Metcalf, p. 103)
Unfortunately, these noble objectives were not always attained, and some became almost the equivalent of the unruly hotels.
In the Coalfields towns, clubs were often founded by miners. For example, on Friday 21 January 1949 The Cessnock Eagle and South Maitland Recorder reported
The President of the Aberdare Miners' Lodge (Mr. T. Duncan) will officially open the Cessnock Workers' Club at the new club premises in Vincent-street on Friday, January 28.
Mr. Duncan played a big part in the formation of the club.
Loans totalling £1,000 were made by the Joint Coal Board and the Northern District Miners' Federation to allow the club to be started.
---
Source
Metcalf, Andrew. For freedom and dignity: historical agency and class structures in the Coalfields of NSW. Sydney: Allen & Unwin, 1988.